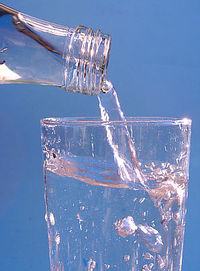 A California woman who participated in a radio station contest to see who could drink the most water without using the bathroom, died of water intoxication. Jennifer Lea Strange was discovered dead in her home in Sacramento at about 2 pm on January 12th. Strange had participated in the radio station competition earlier in the day. The winner of the competition was to receive a Nintendo Wii.
The contest started at 9 am at 107.9 KDND "The End." The "Morning Rave" morning show had a contest called "Hold Your Wee for a Wii." Each contestant had to drink an 8 ounce water bottle every 15 minutes. After the first contestant dropped out each remaining contestant had to drink a larger quantity of water. Many of the contestants later related the negative symptoms they suffered. One described the symptoms much like a hangover.
After Strange left the radio station she called a co-worker and said she was on her way home and that she was in pain and had an intense headache. The co-worker contacted Strange's mother who later found her daughter dead at her home.
Water intoxication happens when a person consumers too much water and thereby diluting the sodium in the body. Sodium is vital for many bodily functions and the condition can lead to headaches, vomiting, seizures, coma and death. The coroner said that Strange's death was "consistent with a water-intoxication death."