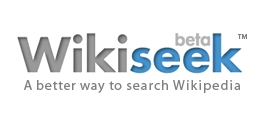 Wikiseek is a new specialized search engine launched by Searchme, Inc. Wikiseek differentiates itself by limiting its searches to Wikipedia pages and those sites which are referenced within Wikipedia.
By restricting its indexes to the Wikipedia network, the results of Wikiseek are touted as being more authoritative and therefore less subject to spam and manipulation by SEO experts.
With fewer pages indexed, Wikiseek holds the capabilities to be faster than the current search engines. And by utilizing Searchme's patented refinement technology to suggest search refinements, the results will be more relevant.
Wikiseek makes use of a tag cloud to help refine search results based on related subject matter. Other search enhancements include a Firefox search plugin as well as a Javascript-based extension that alters actual Wikipedia pages to add a Wikiseek search button.
Wikipedia.org has notoriously limited search capabilities and Wikiseek promises to vastly improve search for the popular reference site. With the growing problem of relevancy issues, most users will welcome a cleaner, more refined search tool.
Wikiseek is an independent project with no affiliation with Wikia or Wikipedia and should not to be confused with the recently announced Wikiasari.
Wikiseek is monetized with advertising revenue and will donate a majority to the Wikimedia Foundation. Released in Beta, the site will be updated based on user feedback and as new pages are added to Wikipedia.