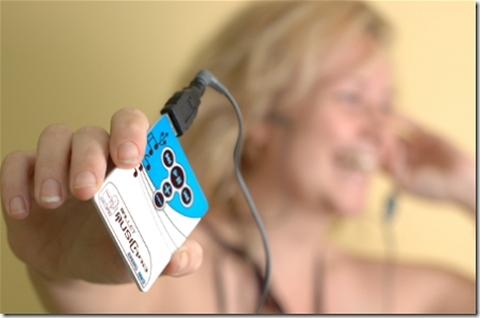 Walletex has taken their credit card sized flash memory card to another level with the Wallatex MP3 player. Using the same flash memory technology to store between 128MB and 2GB of data, they are developing an MP3 player that has the same dimensions as a credit card, according to Krunker.
The player has a very simple user interface of buttons to control playing MP3 files and the volume, and it has a single USB interface which is used to charge the player, transfer data and connect headphones. Krunker, who obtained these early photos of this Walletex MP3 player, also stated that the player has a large double-sided area for printing, which may imply that this device may have plans to be inexpensive enough to use as a promotional item and allow companies to apply their own branding to it. Walletex' flash memory card of the same dimensions sells for as little as $20 USD, but pricing and availability have not been released for the MP3 player.
There are a couple of issues that come to mind for us with this super thin gadget. The first is the headphone jack; even though it is stated that the USB interface also connects the headphones, this means that a normal headphone jack will not work. Users will need special headphones or an adapter to connect to the USB interface. The second issue is storing power. While using the same flash memory that does not require power to store data in the thin memory cards, the MP3 player will need a decent source of power to run the player. It will be interesting to see what this MP3 player looks like when it's actually released.
Source [Krunker]