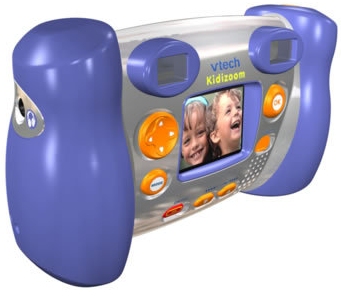 If you missed out on the digital camera from Fisher-Price due to short supplies before Christmas, you might not feel so bad once you see the surprisingly similar looking digital camera from VTech.
VTech has a excellent reputation for making quality, age-appropriate learning toys for kids and we're pretty sure they will not disappoint with this. The company announced that are planning to offer a digital camera targeted for kids ages 4 and up called the VTech Kidizoom.
The Kidizoom will not only take digital photos, but it can also record video and offers games that can be played and viewed on the built in 1.8 inch viewer or plugged into a television. An interchangeable face plate also adds some customization to give the camera a different look depending on the user or their mood. The VTech Kidizoom digital camera will also have 16MB of built-in memory and has an SD card expansion slot to increase the capacity.
The internal capacity of the VTech camera is twice that of the Fisher-Price model, but depending on the quality of the photos and video, the difference will most likely not be that significant. Both cameras also have the large grips on the side to make it easy to handle for kids, but there is no word on the photo quality of the Kidizoom. The games and any software offered with the VTech camera will no doubt be educational for kids, which is an added bonus to an already fun product.
The VTech Kidizoom will sell for around $115 USD, which is a little more than the $70 of the Fisher-Price, but the additional functionality seems to make it worth the extra cost.
UPDATE: These cameras can be found for under $60 this season from Amazon.com
Source [Pocket-Lint]