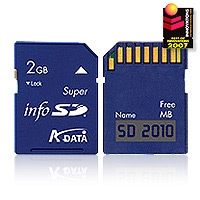 Once in a while I'll need an SD card quickly on the go, or I get them confused on which one has what data. The super-flash folks at A-Data have a solution called the Super Info SD card.
We've seen a little innovation in SecureDigital cards recently with the USB/SD card interface, and we've also seen some portable hard drives that show you what's on them. This solution from A-Data is another innovation for SD cards that allows you to view the capacity of the card as well as some identification of which flash card it is.
The Super info SD card from A-Data uses a bi-stable display technology to display the LED-like display without the need for continuous power. The display will show two characters to identify the drive and four characters to show the free space available (this might be trouble when flash memory is more than 10GB). Sizes come in 512MB to 2GB and price from $15 to $37.
Source [A-Data]