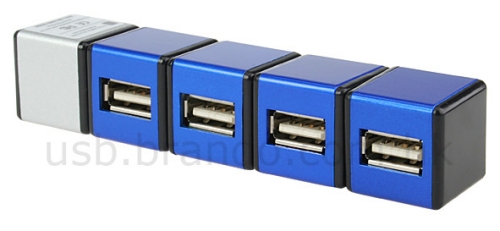 This 4-port USB hub is split into 5 different sections that each rotate independently 180 degrees to help avoid tangled up cords, and allows multiple items to be plugged in that may otherwise cover up adjacent ports.
The USB Twister Hub supports USB 1.1 and 2.0, and has an optional AC adapter (extra $4) to increase power output to high power consumption USB devices such as printers. Transfers speeds are up to 480Mbs.
The Twister Hub is cased in aluminum, weighs 46 grams and is 106mm long. The hub is available from Brando for $22 USD.