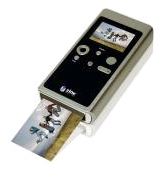 A new company called Zink, short for "Zero Ink" along with Polaroid has developed a new type of printer that doesn't require any type of ink cartridge or ribbon to print color images onto paper similar to common photo paper.
The technology uses specially patented Dye crystals which are embedded into the unique Zink paper. When the appropriate amount of heat is applied to the paper through the Zink printer, the crystals colorize creating the image.
"At ZINK Imaging, we are insisting on the impossible to deliver a revolutionary digital printing experience to the world. ZINK technology does not require ink to print, provides a magical user experience, can transform any device into a printer, is good to the environment and most importantly, makes people smile," said Wendy Caswell, president and CEO, ZINK imaging.
The technology that Zink uses to create the photos allows the printer to be relatively small compared to traditional printers, and similar to the size of a mobile phone which opens up a new market for printer products.
Zink will be unveiling new products at the Demo '07, most likely being a pocket-sized printer and a digital camera with a built-in printer.