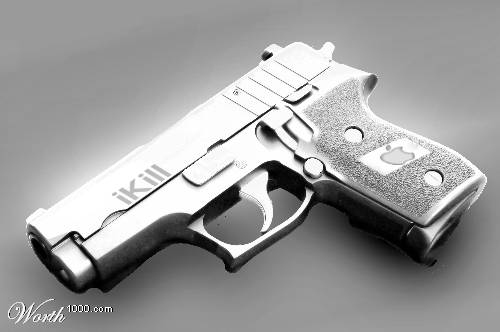 The number of products coming into the market attaching themselves to the Apple trend have been staggering, and SlipperyBrick has listed quite a number of them, most of which start with 'i'.
Throwing the letter 'i' in front of the product name seems to instantly bring a hint of 'trendiness' to an otherwise mundane product, such as a lamp or a shower radio. Of course to retailers this equates to dollars, and Apple has certainly continued to run with it. The iPod, iMac, iTunes and now iPhone. Apple has even infringed upon legal trademarks just to keep the trend going. It almost seems as if Apple could come out with just about any product and as long as they put their signature letter in front of it, it will catch on like gangbusters.
Well, the folks over at the worth1000.com photoshop contest have added some humor to the frenzy with some designs of "Apple's Next Product", our favorite of which being the iKill gun, which of course is only compatible with iBullets. Some other favorites include the iBall, iSee, the iDo engagement rings and of course the iPatch.