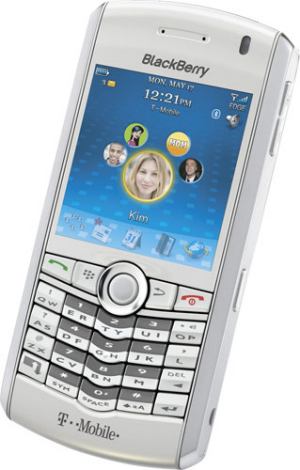 T-Mobile along with Research In Motion (RIM) unveiled a new "Pearl White" BlackBerry Pearl mobile phone yesterday that will be available through T-Mobile.
The white BlackBerry Pearl builds on the already-successful BlackBerry Pearl that comes in piano black and could very likely be jumping on the trend created by Apple with the iPod and recently released iPhone products.
"The BlackBerry Pearl has proven that it's possible to provide a full-featured handset at an attractive price point with an uncompromising user experience and an extremely small, light and stylish design," said Mark Guibert, Vice President, Corporate Marketing, Research In Motion. "We are delighted by the immediate success of the BlackBerry Pearl in the market and we are pleased to build on this momentum with the addition of another stunning color and finish."
I think Guibert sums it up pretty well. The BlackBerry Pearl has been successful product and bringing in a white version makes a lot of sense by simply giving another option to consumers for a good product, and the decision to go with white as that addition option was likely no accident.
Some features of the BlackBerry Pearl include:
BlackBerry
Internet Service with support for up to 10 email accounts
Popular IM clients: AOL, Yahoo! MSN and ICQ 3
1.3 megapixel camera
Multimedia player with support for MP3 and AAC music files, as well as MPEG4 and H.263
video formats
HTML browser
A newly enhanced version of RIM's SureType keyboard
Speaker Independent Voice Recognition (SIVR) for Voice Activated Dialing (VAD)
Quad-band GSM/GPRS and EDGE
BlackBerry Maps
240×260 color display
Light-sensing technology
that automatically optimizes the screen, trackball and keyboard lighting for
indoor, outdoor and dark environments
64MB built-in flash memory and microSD expansion slot
BlackBerry Enterprise Server support integrates with
Microsoft Exchange, IBM Lotus
Domino and Novell
GroupWise environments and features a new set of
IT policy controls for IT departments to manage camera and expanded memory
usage
The white BlackBerry Pearl will be retailing for $150 USD with a 2 year contract.