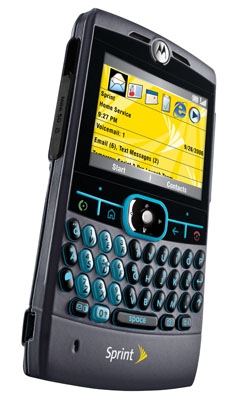 Today Sprint announced plans to offer the MOTO Q by Motorola for release later this month to Sprint business customers and online. Sprint will be offering the MOTO Q in all sales channels and in Sprint stores in February.
"Life today goes beyond the home or office. The Motorola Q operating on the Sprint Power Vision Network gives our customers the power of information that moves with them in a sleek, ultra-thin form factor," said Danny Bowman, vice president of customer equipment for Sprint. "And with a Sprint Power Vision Access pack, available for as low as $15 per month, Sprint customers have the power do more for less each month."
The MOTO Q is a broadband smart device that runs on the Windows Mobile 5.0 Smartphone platform. Although the hardware is basically the same, Sprint has some unique offerings with this mobile gadget that centers around the broadband internet service provided by Sprint. Along with some software features to make web navigation a little easier, they offer NFL mobile to easily access stats, and an On Demand feature to quickly gather real time information on sports, weather and other news.
Aside from these additional features, the MOTO Q still has the slim form factor with a full QWERTY keyboard and is packed full of features for internet, email and messaging capabilities along with a 1.3 MP camera and handy navigation controls for one hand operation.