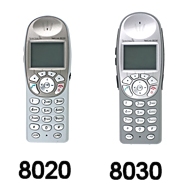 SpectraLink is giving enterprises more options with the release of the NetLink 8000 Series Wireless Telephones. The 8000 series consists of two next-generation Wi-Fi telephony handsets that support the IEEE 802.11a, b and g radio standards. The previous Wireless Telephones from SpectraLink supported only IEEE 802.11b
The two new models in the 8000 series are the basic NetLink 8020 and the enhanced NetLink 8030. Weighing less than four ounces (depending on battery configuration), the handsets feature a simplified user interface with four-way navigation and four programmable softkeys. Other enhancements include an integrated speakerphone and multiple interchangeable battery options depending on your usage requirements. The 8030 supports integrated push-to-talk (PTT) functionality for workgroup communication.
Support for IEEE 802.11a/b/g gives businesses the choice of the most appropriate Wi-Fi implementation for their enterprise. With the NetLink 8000 Series, SpectraLink is anticipating that "VoFi (voice over IP over Wi-Fi) phones will become the norm in most enterprises" and supplant traditional wired phones.
The NetLink 8000 Series Wireless Telephones will begin shipping Q1 2007. List price is $595 for the NetLink 8020, and $675 for the PTT-enabled NetLink 8030.
Netlink 8000 Wi-Fi Telephones [SpectraLink]