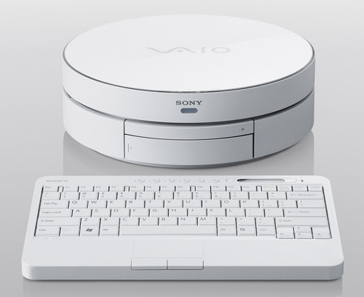 At first glance you might think the new Sony VAIO VGX-TP1 is a new product from Apple with the white color and unusual shape, but Sony has taken a new direction in desktop design with this cylinder shaped design.
The Sony VAIO TP1 comes running Windows Vista and an HDMI port to run a display on your big flat-screen TV. It also ships with a wireless keyboard, memory card slot and a DVD burner built-in. Not to mention that this has all the amenities of a normal desktop PC, all packed into a space-conscious design.
We're not sure if Sony is trying to take a bite out of Apple with the white hardware design and keyboard, but it gives a nice, different looking option to the mundane design of desktops. Sony will start shipping the VAIO VGX-TP1 in March of this year for around $1600.
pc, Sony, VGZ-TP1, VIAO