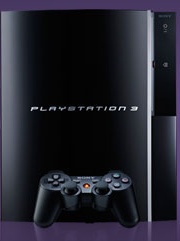 At CES 2007, Sony Corp. said it met its goal of shipping one million PlayStation 3 game consoles in North America in 2006. Sony did not say how close it came to shipping 2 million units world-wide in 2006. The PS3 has not started selling in Europe yet. It is scheduled to go on sale around March of 2007.
The PS3 has been plagued by production problems mainly from a shortage of blue laser diodes which are a necessary component to the Blu-ray players included on the high-tech console. Rumors have circulated that Sony may dump the Blu-ray format because of the ongoing component shortage issues.
Nintendo, with its much lower tech (and some argue much more fun) approach is expected to have sold 4 million Wii's in 2006. Microsoft said it expected to sell 10 million Xbox 360′s by the end of 2006. Both Nintendo and Sony had predicted selling 6 million units by the end of March 2007.
Dave Karraker, a sony spokesman said, "Are we worried about strong sales of the Wii or Xbox 360? Not really…It was a great year for the industry overall. With the tide all ships rise."