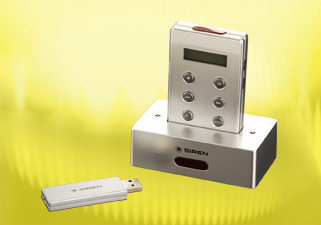 A common problem with digital music is that it sits on your PC. Sure you can listen to it with headphones or transfer it to DAP, but what if you want to play it on that kick-butt stereo system that you have?
Well, your in luck. There are a number of ways you can get your digital music to come through your stereo, but the Siren Screamer may be one of the easier and more convenient ones. Connect on component to your stereo, and the other to the USB port of your PC. The music is transmitted wirelessly from your PC to your stereo, and you can control it with a handy remote, to boot.
The remote has an LCD display and can run Windows Media Player and iTunes to control the playback, all without wires. The receiving unit connected to the stereo uses has a dock for the remote which also charges it, and the remote works up to 150 feet away (line of sight with IR). Clean and simple.
Source [SirenPlayer]