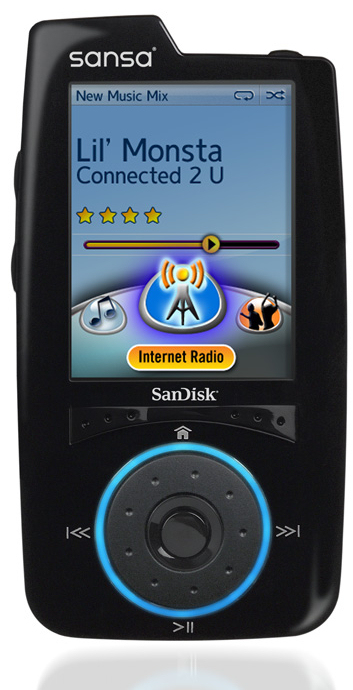 SanDisk has released another new MP3 player to their Sansa line of devices. The Sansa Connect is a 4GB MP3 player with WiFi connectivity and a 2.2″ TFT display screen.
The Connect allows the user to play music and share it with a built-in speaker as well as view photos. Internet radio can also be streamed through the WiFi connection along with downloading music through any open WiFi network and with Microsoft PlayForSure. There is also an SD card slot to transfer and store additional files beyond the internal 4GB capacity.
"It's about accessing music of your choice wherever you are. If you're listening to new songs from a music service and find ones you want to keep, you can bring them into your library and don't have to wait until you get back to your PC. If you want to tell your friends about your discoveries, the Sansa Connect will also allow you to share music suggestions over the Web – anytime, anywhere – over an open wireless Internet network," said Eric Bone, product marketing director for SanDisk's audio and video line.
The Sansa Connect is going to be available in March of this year retailing for about $250.
Source [SanDisk]
MP3 player, pmp, SanDisk, Sansa Connect