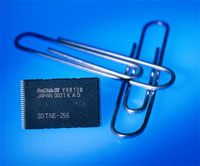 Sandisk recently announced that they along with Toshiba are planning on shipping their next generation of NAND flash memory in the first quarter of 2007 as they begin a transition in production at one of their joint wafer fabrication plants. The transition will mark the beginning of producing 56 nanometer multi-level cell flash memory chips from the previous 70 nanometer production. This will create the industry's highest available density in a single chip MLC NAND flash memory.
This release comes after a number of recent announcements from Sandisk touting milestones in memory capacities, faster performance and flash storage solutions. The higher density in these chips equate to the potential of flash memory cards and thumb drives being available with higher storage capacities. Currently the capacity of memory devices is limited to how many chips can physically fit in whatever storage device is being used. Increasing the density will allow more data to be stored in the same amount of physical space.
"With commencement of the 56nm technology, SanDisk is rolling out its fifth generation of MLC NAND flash memory," Dr. Randhir Thakur, SanDisk's executive vice president of technology and worldwide operations said in the press release. "The technology and design advances will help enable SanDisk products to offer approximately twice the improvement in write performance compared to the 70nm generation. We are pleased with the joint development of 56nm advanced technology with Toshiba, and expect it to become a production workhorse in Fab 3 during the second half of this year. We are executing according to plan and continue to make the captive Fabs highly cost-effective sources of flash memory for our expanding array of consumer products,".
SanDisk and Toshiba made this announcement together since they share a facility that produces the wafers as well as worked together on designing the technology for NAND flash memory. The NAND architecture was actually introduced by Toshiba in the late '80′s.
Flash memory is a type of non-volatile memory which means it doesn't need continuous power to maintain the information on it. This is an advantage over volatile DRAM type memory that you would find as the main memory in a PC, although the DRAM memory provides faster read access.
NAND flash memory specifically has some advantages depending on its application compared to its NOR counterpart. The NAND type of flash memory has faster write and erase times with a higher endurance for re-writing data multiple times. This works well for instances where the data will be overwritten often. The downside of NAND flash is that it can only access data sequentially which makes its response time for reading data a little slower than desired, and not suitable for applications such as PC memory.
SanDisk will start shipping an 8Gb NAND flash memory chip with the 56nm technology in Q1 of this year, and offer double the capacity in a 16Gb version by the end of Q2.