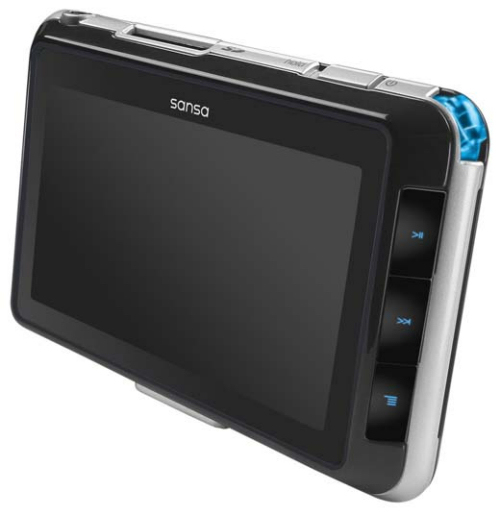 SanDisk recently introduced the slim Sansa View portable video player which allows playing movies, music and viewing photos on a 4″ widescreen color display.
The video player has only 8GB of internal memory, which is quite a bit for playing audio files, but doesn't go quite as far when viewing video. SanDisk estimates 33 hours of MPEG-4 video playback at 512kbps with the internal 8GB. The video player does have an SD card slot, so the memory can be expanded and video stored externally if needed, and a video out AV jack to allow playback on a television. The player also has a rechargeable battery that allows playback for up to 10 hours on a full charge, a built-in speaker and overall dimensions of 78.5mm x 123mm x 16.9mm.
The Sansa View is expected to start shipping in the first quarter of this year retailing for $299, and currently comes pre-loaded with full-length movies, short films, videos clips, photos and music from CineQuest and eMusic.
Catalog Page [SanDisk]
pmp, SanDisk, Sansa View, video player