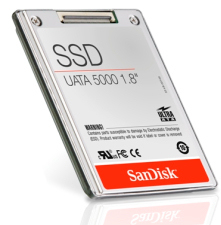 SanDisk announced today the launch of a 32 gigabyte, 1.8″ solid state drive as a drop-in replacement for existing notebook drives.
The new replacement drive uses non-volatile memory instead of a spinning disk and mechanical head to read and write data. Due to this, the SanDisk drive can offer very competitive read and write speeds without having to spin-up or seek files, with a fraction of the power consumption of a traditional hard drive with moving parts. Lower power consumption can be an important factor for those using notebooks on the road in order to increase battery life.
"This is an important milestone for SanDisk in our relentless quest to create new large-scale markets for flash storage solutions for consumers in the personal computing space," said Eli Harari, SanDisk CEO. "The 32-gigabyte SSD that we are announcing today represents the fifth generation of flash-based solid state drives developed by msystems, which we recently acquired. The 32GB SSD has been made commercially viable through SanDisk's technology leadership coupled with msystems' tremendous experience and IP, which are captured in the high-performance, low-cost system controllers that distinguish this product."
The SanDisk solid state drive provides two million hours mean time between failures (MTBF), and can deliver read rates at up to 100 times faster than most standard hard drives, which could allow booting of the new Vista OS in as little as 35 seconds.
A SanDisk representative will be giving a presentation on the new drive at Storage Visions 2007 in Las Vegas next week.