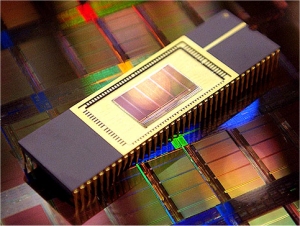 Solid state disks (SSD) offer a vast improvement over the spinning platters found in conventional hard disk drives. SSDs will help overcome the bottleneck caused by the latency of disk drives and will accelerate applications and lower power consumption. The net benefit of SSD is that consumers will have faster data transfer speeds when reading or writing large files.
Samsung announced today that it has begun sampling its 16Gb NAND Flash memory design with customers. Samsung's 50nm Flash incorporates a new memory design which uses a 4KB page size, twice the conventional 2KB paging system for NAND flash. The new technology will improve both its read and write features to double the read speed, while increasing write performance 150%.
Samsung is hoping that early market introduction of higher density NAND flash memories will hasten the adoption of flash-based SSDs. Mass production of Samsung's 16Gb NAND flash memory is planned for the first quarter of 2007.
Press Release [Samsung]