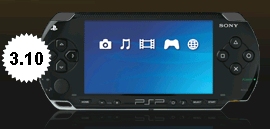 Yesterday Sony released a version 3.10 firmware upgrade to the Playstation Portable system with some increased security among other new features. By the end of the same day, hackers had already decrypted the 3.10 firmware to allow third party applications to run on the PSP.
The party claiming responsibility for the PSP hack, "C + D", was boastful about the day 0 hack of the new firmware stating, "$ony has lost another batle and will loose the war…". Obviously they are better at hacking than they are spelling.
The new firmware updates for Sony's PSP include support for an expansion of Playstation titles, support of MPEG-4 AVC format video files, a Conserve Memory feature and a dynamic sound normalizer. In addition, and more interesting in this upgrade is the ability to download demos directly to the PSP or transfer downloaded demo games from a PC. The first of these new demos that PSP owners can download is Killzone: Liberation, followed by Syphon Filter: Dark Mirror and SOCOM: U.S. Navy SEALs Fireteam Bravo 2 in a couple weeks.
TAGS:
3.10, firmware, Hacks, PSP, Sony