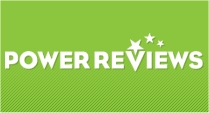 Like many people, I thoroughly research a product before I buy it. I typically go to Amazon first as they seem to have the largest database of quality reviews. As a last resort, and if I have exhausted all of my options, I will go to the search engines and try to hunt down an authoritative review. The grim reality is that consumers still have few choices for reviews – choices that offer the depth and breadth necessary for all types of products.
PowerReviews is a distributed network of product reviews that aims to solve the dreaded research issues many of us face by providing free reviews and sophisticated research tools for customers looking to research a product.
PowerReviews is a free service that works with smaller web retailers to display and obtain product reviews. These small retailers then benefit by having access to the entire network of reviews in the system and customers benefit through easy access to reviews.
PowerReviews provides several interesting features that make it easy to work with the reviews content. Some of the features of PowerReviews include:
PowerTags – Reviewers can add their own keywords that help describe the product. An interface allows reviewers to then vote on these keywords. An auto-complete function suggests ideas to other customers who want to enter their own PowerTags.
PowerSummary – PowerSummary is a technology that allows customers to see at a glance what most customers have agreed on.
Merchant Response – Merchants can post responses to customer reviews.
Verified Purchaser – Verified Purchasers are customers who are verified by retailers to have actually purchased the product they're reviewing. This increases trust and confidence in review comments.
Snippet – Snippets display the average customer rating for a product in a small highlighted area that appears "above the fold" on a retailer's site, making it easier for a customer to find a review at the top of a page.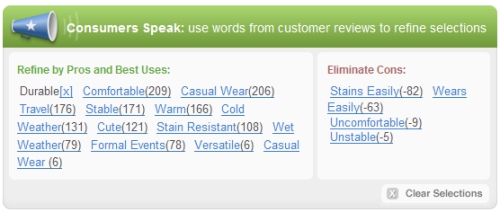 The PowerReviews website will provide a single place for online shoppers to find and read reviews. The Website will contain the aggregate reviews from all the PowerReviews partners as well as reviews provided via feeds from other retail sites.
The PowerReviews reviews service is free. The company makes money through advertising and pay-per-click mechanisms from their shopping portal.
PowerReviews has not yet launched, but you can take a sneak peek at the sample portals. With plans to launch in Q3 2007, they are currently working on launching the review service with retail and brand sites in order to collect reviews for the portal site.