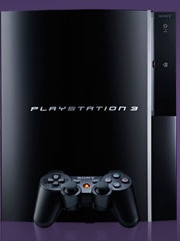 Sony just can't catch a break. Recent Japanese sales data on the PlayStation 3 indicate that the expensive console has had its worst week since its launch in Japan. In the week ending January 14th, Sony sold a paltry 25,531 units.
Overall, the console market has slowed. The Wii turned in its second worst week with sales of 93,708. The Xbox 360 sold a meager 9,035 units. The source of the sales data is Media Create, Co., a Japanese console gaming research company.
The big news is that while Sony claims to have shipped a large amount of consoles the sales reported by retailers is fairly low, indicating that once well publicized shortage is being replaced apathy on the part of consumers.
PlayStation 3 games are slow to sell also. The highest ranking game "Resistance: Fall of Man" came in at #40 on the list of top selling games.
Whether the generally slow sales of consoles in Japan represents market glut, lack of interest or something else entirely remains to be seen. However, Sony may be in for a tough year as it looked for sales of the PlayStation 3 to revive slumping profits.