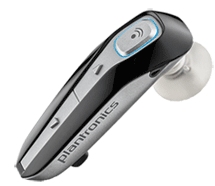 The days of seeking out a quiet location to make a call on your mobile may be over thanks to the Plantronics Discovery 665 Bluetooth Headset. This new headset is a significant improvement in headset design thanks to something called AudioIQ.
AudioIQ is a technology that claims to reduce background noise up to 50 percent. For incoming calls, AudioIQ adapts to background noise levels and improves the receive quality, clarity, and volume level. For outgoing calls, AudioIQ reduces background noise for listeners up to 7-8 decibels, or by approximately 50 percent.
This Discovery 665 also features DSP (digital signal processing) sound technology to automatically optimize audio levels on both sides the call. This feature will significantly increase clarity for mobile phone callers, as well as for the listener on the other end of conversations.
The Plantronics Discovery 665 Bluetooth Headset will be available for $149.95 in February 2007.