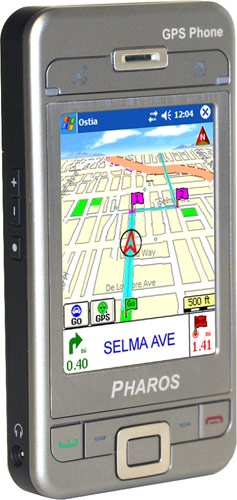 This time Pharos took the horse by reigns and introduced a new GPS Smartphone by adding mobile phone capabilities to a GPS gadget, instead of embedding a GPS receiver and navigation software into some other mobile phone.
This Smartphone is definitely not light on the features (or the price for that matter). In this relatively small package comes not just a SiRFStarIII GPS receiver, but also all the big acronyms in mobile communications, including quad-band GSM/GPRS/EDGE, WiFi, Bluetooth and even FM radio. The smart device also houses a 2 megapixel camera and of course the Pharos Ostia navigation software.
The Ostia software runs on the Microsoft Mobile Pocket PC 5.0 platform along with the mobile office applications including Outlook, Word, Excel, IE and Windows Media Player 10. Also, the SIM slot on this gadget isn't locked so users can add an existing SIM card or sign up with any GMS carrier.
When purchasing the GPS Smartphone from Pharos, consumers get a free three month subscription (about $7/month after that) to Pharos' web-based location navigation service and a free copy of Microsoft Streets & Trips which runs on a PC to help plan trips.
The Pharos GPS Smartphone has a lot of features packed into a pretty small device that can almost do it all, and it has a price tag of just under $700. This is no small price, but again, the device certainly does not lack in features. The GPS Smartphone is expected to be available in February of 2007.