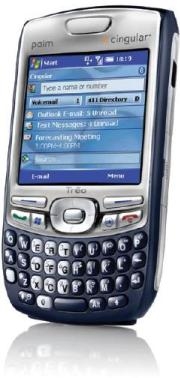 Palm and Cingular introduced the new Palm Treo 750 for Cingular this week, which is now available for customers through Cingular and through Palm's website. This brings Cingular up into the race with a product in direct competition with the likes of Sprint and Verizon with their Treo 700 line products, and is an addition to the Treo 680 already available from Cingular.
The Treo 750 will have high speed 3G/UMTS network access to provide faster internet access to customers. The UMTS network has speeds from 200-300 kbps, which is not quite as fast as the possible 700kbps with Cingular's HSDPA service, but it is quicker than the EDGE connections. The 750 is also dubbed a world phone allowing access to GSM, GPRS, EDGE and UMTS networks to give access throughout the US and in 61 other countries around the world.
The Treo 750 has a slim design with a full QWERTY keyboard and a 240×240 touch screen display, along with a 1.3 megapixel camera, 60MB of internal storage and accepts MiniSD cards. It runs on Microsoft Mobile 5.0 Pocket PC Phone edition and has direct push technology for real time access to email. Users can view and edit Word and Excel files, and have view only access to Powerpoint and PDF's files.
Aside from the high-speed internet access, the Treo 750 from Cingular supports Bluetooth connections, but unfortunately does not have WiFi or a GPS receiver built in. No WiFi is always a slight disappointment for us, we look forward to the day when all smart devices will not require minutes to access the internet.
The Palm website is showing the Cingular Treo 750 smartphone available for $649 without a plan, and $399 if you sign up for two years. Voice and data plans are $39 each/month.