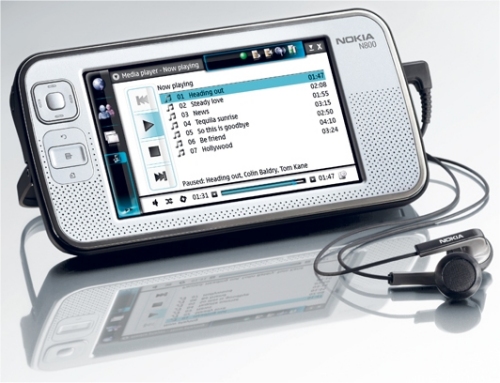 Nokia has released their latest Internet Tablet titled the N800 to upgrade from the 770. With this hand-held device, users can easily take the internet and communications with them throughout the house or office ridding the need of a laptop to look up web pages or check their email. No traditional voice communications are included with this hand-held, but Nokia has announced a partnership with Skype along with the release of the N800. A Skype integration for this device is planned for sometime in the first half of 2007.
In addition, the Nokia N800 sports a built-in webcam to facilitate online video conferencing through the little device, and it can be configured to automatically connect to known WiFi hotspots or through Bluetooth 2.0 connections to a mobile phone. It contains a full QWERTY keyboard that displays on the 4.1 inch touch screen which has a resolution of 80×480 pixels.
"As the Internet becomes an ever more integral part of daily life, Nokia N800 has been designed to offer quick and convenient access to your favorite Internet services regardless of location," said Ari Virtanen, Vice President, Convergence Products, Multimedia, Nokia. "The Nokia N800 takes our offering to the next level combining speed, performance and mobility into a stylish, compact design."
Some additional specs on this handy Internet Tablet include a 320MHz processor, 128MB RAM, 256MB of internet Flash memory with dual SD card slots for additional external memory. The N800 is can also be used as a multimedia player, allowing you to play streamed video and audio content from the internet.
Source [Nokia USA]