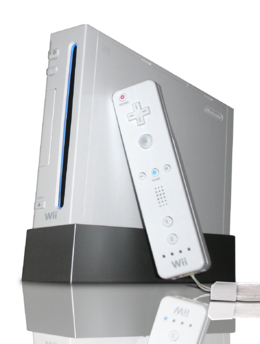 I've been getting a little tired of walking into my local Fry's store lately and seeing a stack of PS3′s, and then looking across the isle and finding lots of Wii accessories and paraphernalia but no Wii consoles. At first I thought I was just not cool enough to know where they are but this last trip I went against my internal instincts and asked an employee. It appears there were no Wii's in stock. At first I thought it may be just the Portland metro area, but after a very small investigation I found I'm not alone in my search for the Wii game console.
This is frustrating for those of us who would rather avoid the lines and wait until things settle down so we can just stroll into a store and pick up a game console without any wait. Well, the frenzy seems to have settled down and stores have had ample time to re-stock, but I can't seem to find a Wii anywhere reasonable in which I can get my hands on.
Kotaku recently reported rumors from an inside tipster that Best Buy is going to have a minimum of 15 Wii's available at each physical store location this weekend, and possibly more. They also said that this will be published in the weekly ad so SlipperyBrick may be giving you the edge for now but by the time this weekend comes you may have to get in line or camp out with everyone else. When I called my local Best Buy store, they were unable to confirm or deny a shipment of Nintendo Wii consoles on the way.
Will Greenwald with Crave has indicated that he is also having trouble finding the consoles in his neck of the woods. There are probably some more remote areas that might have a few on the shelves, but I don't think I'm into schlepping either, whatever that means. Will also reports that "only 7 out of 62 listed stores in New York City have the Wii in stock" according to iTrackr. When I look up the Portland area it's even worse with only 1 out of 28 retailers with Wii's in stock.
In a quote from Rueters, American Technology Research analyst Paul-Jon McNealy said "Our channel checks yesterday of 52 retail stores, from boutiques to big-box retailers, showed that 28 of the 52 stores had PS3 consoles in stock, while none had Wii consoles in stock,". It looks as if his Wii predictions have come true.