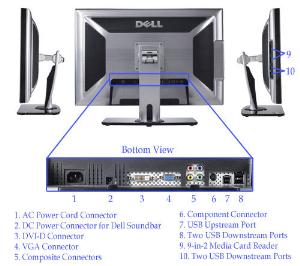 In what was apparently a mistake the image for the Dell 20″ monitor was mistakingly replaced with an image for a 27″ monitor.
In a posting on a Dell Forum an employee of Dell indicated that the image was from a training manual for the "not yet released W2707C."
So it appears that there is a Dell 27″ display on the horizon. This monitor is rumored to be an enthusiasts model. If the fabled 27″ display uses this Samsung screen then it is possible to infer some data about the upcoming model.
It appears to have a 1920 by 1200 native resolution. This is the same as the existing Dell 24″ models. The image from Dell's site reveals the inputs to W2707 to be very similar to the 2407 that SlipperyBrick has in-house. There are of course the USB input and outputs and the built-in card reader that Dell includes on its desktop displays.
The mention of the model number W2707C might be another mistake by a Dell employee as the C designation is usually for LCD TV's and not desktop display. The inclusion of a card reader and the configuration of the inputs and outputs leads to the conclusion that this is in fact a desktop display. Also the original name of the image include the term W2707WFP, which is a designation for a Wide screen Flat Panel not an LCD TV.
Here is the back of a Dell LCD TV for comparison.
It is typical for manufacturors to anounce new products at the upcoming Consumer Electonics Show (CES). Dell introduced several new monitors there last year including the 2407WFP and the 3007WFP. This year's CES is Januay 8-11 in Las Vegas.