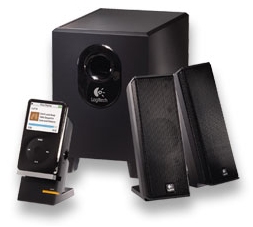 The Logitech X-240 speaker system includes an integrated, stow-away cradle for an iPod, PDA, or mobile phone. The cradle makes it easier for people to charge, sync and play their portable device with their PC.
The X-240 Control Center Cradle includes audio controls for a PC or Mac that provides digital music enthusiasts with "convenience and flexibility" when using iPod or Zune with a PC. The plug-and-play cradle allows people to dock their digital device to charge it, sync it, or just play music. The cradle has specialized trays for the iPod and Microsoft Zune and can be stored flush with the control pod when not in use.
Keep in mind, the X-240 isn't just a fancy iPod cradle; it is a quality speaker system too. Dynamic, real-time bass equalization maximizes bass response from the down-firing subwoofer while high-excursion drivers provide rich sound from the slim satellites.
The Logitech X-240 speaker system was announced on January 4th, 2007 and will be on display at the 2007 Consumer Electronics Show. The system is expected to be available in the U.S. beginning in April with a suggested retail price in the U.S. of $49.99. A May release is planned for the European market.
X-240 Speakers Logitech