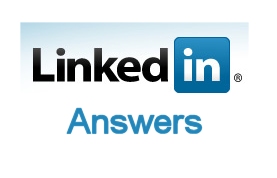 Getting solid advice on tricky business matters isn't always a simple feat. It can be difficult finding a trusted source or finding someone with the adequate experience to give you a confident answer.
LinkedIn, a business networking service that gives members access to jobs, people search, and other opportunities, has launched LinkedIn Answers to open up the knowledge of thousands of business veterans in over one hundred different industries.
As a LinkedIn user you can use LinkedIn Answers to leverage the power of your trusted professional network to receive business-related advice. Members can ask business-related questions and receive answers from hundreds of thousands of experts in the LinkedIn network.
Questions can be targeted to specific members of one's network, as well as to the entire LinkedIn network of more than 9 million professionals from around the world in 130 industries. The service is free and currently allows users to ask ten questions a month.
How can you be sure the answers are trustworthy and reliable? Well, the questions you ask or the answers you give are directly tied to your profile. This promotes more credible answers when compared to other answer sites that allow anonymous dialogue.
Experts who answer questions are behooved to give credible answers to receive "expertise credentials" for every best answer they provide. These credentials then become part of their LinkedIn profile, and allow other users to see that they are a proven expert on that topic.
For those experts who consistently provide expert answers, LinkedIn will promote their expertise to other users. This provides an opportunity for consultants, contractors and other service providers to build a reputation and market their services.