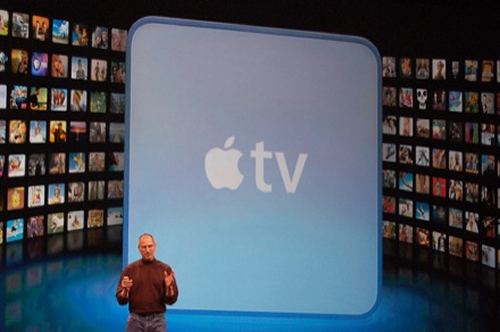 Today at MacWorld in San Francisco Steve Jobs unveiled the highly anticipated Apple TV, dubbing it the iTV multiple times during his keynote speech. The Apple TV was overshadowed and did not come with as many surprises as the Apple iPhone, but nonetheless has many impressive features.
The Apple TV connects directly to a television to allow viewing streamed iTunes content such as movies, photos, TV shows, and music directly on the TV, from up to 5 different PC or Mac computers at a time. There is also a feature to auto-sync the content of the hard drive to one computer which would allow your content to be easily updated.
Apple TV contains a 40GB hard drive to store movies and other media content as rumored, and plays the video at 720p high-definition. The box is of course can be connected via WiFi (802.11 b/g/n) and has ports for USB, HDMI as well as audio and optical out jacks and all runs off the newly adopted Intel CPU.
Jobs showed multiple clips from feature length movies, popular television shows, still photos and music to a very excited crowd, all streamed from his computer to the Apple TV and onto a 40 foot screen behind him.
Pricing was quoted to be $299. The Apple TV can be ordered starting today and will start shipping in February of this year.
[Photos Credit: Engadget]