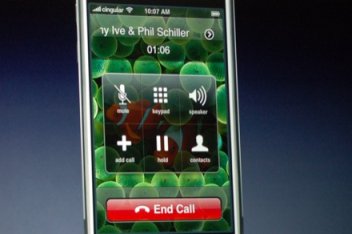 In a move that has surprised absolutely no one, Steve Jobs unveiled the new iPhone during his MacWorld keynote address. The device looks like a PDA and has no permanent buttons.
The iPhone as anticipated by many, and its introduction has raised Apple's share price.
Jobs made a point to mention how smart phones aren't very smart because of the fixed keyboard and the space that this wastes on most phones. Jobs also mentioned the fact that you can have visual voice mail, meaning you can view your voice mails like your email inbox.
The phone is a Quad-band device using GSM + Edge and also Wi-Fi and Bluetooth capable. Supposedly, the internet integration with Wi-Fi is very seamless.
Jobs demonstrated the context based screen that changed based on what task was being completed, it would show a dial pad for dialing numbers, etc.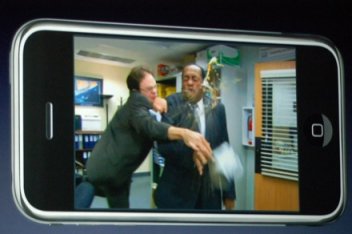 The phone ties in very well to the iPod line of devices. Its screen was very capable of displaying video. Jobs showed a clip from "The Office" to demonstrate the video capability of the device. Also the iPhone categorizes music very well and allows on screen navigation of music in a very intuitive way.
The iPhone comes with the Safari browser and is a capable of connection to any web based email service like Gmail, Hotmail or even Microsoft Exchange (the web based version not the Outlook client). Another interesting feature is that the phone could pick out phone numbers from the text of web pages so you could just dial them. Yahoo is offering free push email service to iPhone users. This is similar to what Blackberry devices do, the get the email pushed to them instead of the client requesting new mail messages.
The web browser was impressive as Jobs showed the whole New York Times web site in landscape mode on the iPhone. He zoomed into certain portions of the screen by double tapping over the desired location.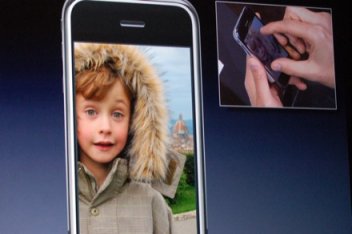 The extra big screen on the device is great for viewing photos and the iPhone has a pretty slick photo management application. The screen resolution is obviously very high as Google Map pictures show up very clear.
All in all, the iPhone is probably the most impressive technology this writer has seen this week and that is saying quite a bit because of all the fantastic technology that has been debuted.
(all images credit: engadget.com)