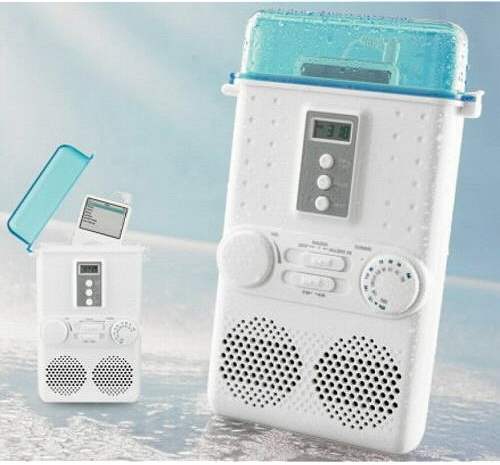 This is yet another iPod accessory that could really work with any MP3 player, but has been branded, colored and pictured with an iPod to latch on to the Apple gravy train. Nevertheless, this is a nice looking little waterproof stereo that lets you play your tunes and sing along to your own songs in the shower.
The music output is really the only integration this iPod shower dock has to the iPod player, or any MP3 player for that matter. The clear dome opens to allow the safe keeping of the player without getting wet. The Shower iPod / MP3 player lets users adjust the volume, radio stations and a digital clock, but does not provide control of the iPod through the Shower dock as we had hoped.
It's still not a bad way to bring your favorite tunes into the shower, though. Just be sure you have your the iPod playback set correctly before you get wet, and of course that someone else isn't storing soap or a puddle of water in the case before your drop your iPod in.