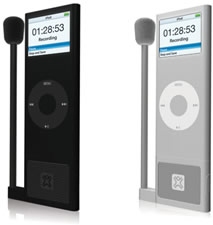 This little iPod accessory is a microphone and speaker attachment for the iPod Nano that allows direct stereo recording into WAV file format.
The microphone speaker combo attaches directly onto the bottom docking port of the Nano extending it's height a little, and the microphone is actually flexible to change the angle while recording. The recordings can be saved in a high or low quality mode and an 8GB Nano can hold 51 hours of recording in the low quality setting.
The design on this looks pretty nice as it extends the original size and shape of the iPod Nano, but we're not sure just how much juice this device will use up while recording and playing back with the speaker since it's drawn from the iPod itself. In the full scheme gadgets that interface with the iPod this appears to be one of the better ones, but the $70 price tag could maybe use a little work.
Source: New Launches