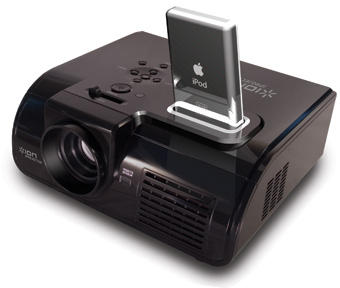 The iProjector video projector for the Apple iPod is a video projector from Ion Audio with a native 800×600 resolution and has a built-in dock for the iPod, among additional input ports.
The key feature of the iProjector is the docking station which supports the iPod Video, iPod Photo and the iPod Nano to interface video, still pictures and music to the projector as well as charging the iPod battery. The iPod projector also has video inputs for Composite, S-Video, Component and VGA. There is also an audio out jack for the sounds from the iPod.
The 800×600 native resolution display supports 24-bit color and has a brightness of 800 ANSI Lumens projecting to sizes from 30″ up to 90″.
A majority of accessories designed for use with the iPod are not really meeting any needs, but this accessory appears to be an exception. Since the iProjector supports input from other sources it's not limited to being used with an iPod. Also, even though cables are available to connect the iPod to a standard projector, this gadget makes connecting very convenient for frequent use.
Source [Ion Audio]