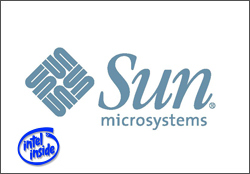 After some recent rumors about a collaboration between Sun Microsystems and Intel, both companies confirmed today in a press conference that Sun will begin using chips made by Intel in some of its servers. This is another major step ahead for Intel after landing a deal last October to provide processors for Apple MacBooks. At the same time this announcement is a set back for rival chip maker AMD who has been in head to head competition with Intel in coming out with more advanced, multi-core chips sets. AMD also currently provides processors for Sun servers.
Sun stated that it is planning on integrating the Intel Xeon chips yet in the first half of this year. They will offer systems running not only Solaris, but also Windows and Linux OS's with the new Intel chip as a result of joint engineering and marketing efforts by both Sun and Intel.
"Up until recently, AMD was consistently gaining share in most all markets while Intel struggled. Now, AMD has missed the last two quarters, Intel appears to be steadily improving, and now Sun is giving Intel obvious market share," Cody Acree, an analyst for Stifel Nicolaus said in a note to clients before the announcement according to Reuters.
CEO's for both Intel and Sun seem to recognize the importance of teaming up and providing the best possible solution for customers. "We can't simply be about our own intellectual property," said Sun CEO Jonathan Schwartz. "That's not how customers buy and that's not how we believe the market actually wants things."
Not only do Intel and Sun intend to provide a better solution to consumers, but both companies will also most likely benefit from the markets they will have access to that they did not prior to this venture. Providing Intel chips in their servers may also help bring Sun back into the mainstream for adoption of they systems. This deal also carries some significance for Intel as they had made processors for Sun Microsystems in the past but were discontinued due to inefficiencies.