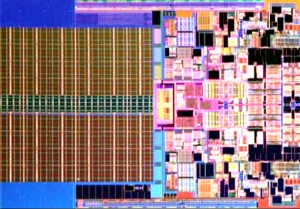 Today Intel has announced plans for their next generation processor chips, intended to improve processing speeds and increase the lead between themselves and their competition when the new chips go into production. The new processor, code named Penryn, will used a 45 nanometer manufacturing process to provide faster processing on the same amount of physical space without significant changes to power consumption.
Intel's ability to improve performance is due to the implementation of high-k dielectrics and metal material for the transistor gate electrodes. According to Mark Bohr, senior fellow at Intel, the insulation layer of the silicon on transistors has gotten so thin that there is a risk of excessive electricity leaking from the chips which would cause laptop batteries to run down too fast, among other problems. To solve this problem Intel implemented a new denser hafnium metal.
Intel claims that by using the new materials in its manufacturing process, they are able to boost performance and reduce leakage by more than 10 times the current technology using silicon dioxide. IBM working along with AMD has also recently announced using the same new technology in their manufacturing of logic chips.
"The implementation of high-k and metal materials marks the biggest change in transistor technology since the introduction of polysilicon gate MOS transistors in the late 1960s," said Intel co-founder Gordon Moore.
Now that the specifications for Intel's new Penryn chip have been finalized, computer desktop and laptop manufacturers should be able to start incorporating the chip into their systems towards the end of 2007. Both Intel and IBM plan on shipping products with the 45nm technology in the beginning of 2008.