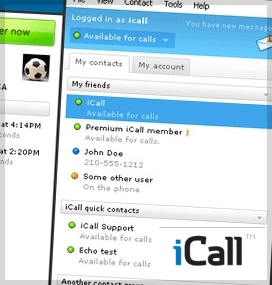 iCall is a VoIP service that allows you to make free outgoing calls to the US and Canada and receive free incoming calls from anywhere in the world.
More specifically, iCall is a software application that you download and install on your computer. iCall requires an Internet connection (cable, DSL, wireless, or dial-up) and a PC to access the telephone network.
To place a call, you start the iCall service on your computer and type in a phone number. iCall then uses your Internet connection to connect the call.
iCall also offers free inbound access numbers in almost every US area code so that your friends call you. They just need to call the access number in your state and enter your iCall extension. iCall extensions are free with a membership.
iCall makes its money by inviting its users to call the businesses who pay to be listed in the iCall directory. In addition, iCall gets revenue from selling accessories such as headsets and by selling inexpensive international calling rates.
iCall is a logical alternative for Skype users who are upset with Skype's decision to switch to a flat rate calling plan. Another important feature is the ability to call anyone in US & Canada for free using iCall from anywhere in the world. Finally, iCall also offers free personalized voicemail normally a service many competing services charge several dollars a month for.