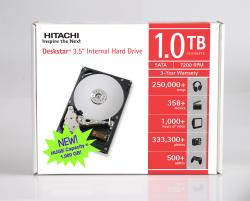 Today Hitachi has announced that it will be the industries first in the world to offer a 1 terabyte hard drive. The 1,000 GB drive (for those having trouble with the metric system) will be available to retail consumers in the first quarter of this year, and will come under the name 'Deskstar 7K1000′ retailing for $399. Hitachi states that the 40 cents per gig (for those having trouble with the math) will make the larger capacity an accessible price for more customers.
This announcement comes within hours of Seagate's announcement of also offering a 1 TB drive sometime during the first half of this year. Seagate did not have specifics as to a release time or price and since missed out on the race to be the first.
"The industry's first one-terabyte hard drive represents a milestone that is 50 years in the making, and it reasserts the hard drive's leadership as the highest-capacity, lowest-cost storage technology," said Shinjiro Iwata, chief marketing officer, Hitachi Global Storage Technologies. "In the 51 st year, Hitachi is leading a new era for hard drives — not only providing large amounts of affordable storage, but also customizing and optimizing hard drives to deliver products that are smarter, more durable and more useful to the consumer."
In addition to the Deskstar, Hitachi is also also announcing the CinemaStar 1 TB drive designed specifically to cater to multimedia storage in video cameras and high definition recorders. Both offerings are 3.5-inch, 7200 RPM Parallel-ATA/Serial-ATA hard drives, but the CinemaStar won't be available until the second quarter of 2007.
hard drive, hdd, Hitachi, terabyte