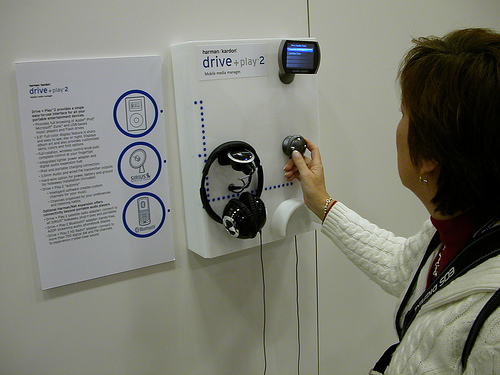 Harmon Kardon, the company known for audio excellence, has released its updated version of its popular Drive+Play device. Drive+Play 2 provides a nice interface for devices like an iPod or satellite radio. The Drive+Play mimics an iPod down to the interface and button. The remote is a 2.4GHz wireless knob that resembles an iPods scroll wheel.
The 3.5 inch display, which mounts on your dash with either glue or screws (yikes), is meant to resemble an iPod screen. The screen supports regular and large font (for those older drivers). The screen is colored unlike the original which had a gray scale screen.
The "brain" of the system can be wired directly to a car stereo system for a permanent installation. If the user isn't so sure about permanently grafting the device to their car, they can also use the FM transmitter to get the tunes from the device to their car's hi-fi stereo system.
The Drive+Play 2 also supports Bluetooth connections for streaming either music or an actual hands free conversation from a mobile phone. A Sirius radio connector is also available.
Harman Kardon offers to install the unit at several locations around the US.
The Drive+Play 2 will retail for around $400 US.