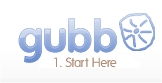 I'd like to consider myself a pretty organized person. I don't really like having obligations and I never procrastinate. Needless to say, I make a lot of lists. Lists are a big secret to my organization.
You might not think that much could be improved upon when it comes to list-making, but you might be surprised at where the humble list is headed. gubb is a new service that allows users to make and share lists through a Web-based application.
It's just a list, how can it be sophisticated? With gubb, a simple list can get fairly complex pretty quickly. Here is a rundown of some of the gubb features:
You can create, organize and update an unlimited number of lists
E-mail lists to yourself or anyone else.
Share your lists with anyone.
Collaborate with friends, family, co-workers or anyone on projects, tasks, etc.
Make your lists mobile.
Stay focused on their everyday tasks and to-do's.
Access your lists 24/7 and 365, from anywhere.
gubb claims that their list-maker has more features than the competition (rememberthemilk.com, tadalist.com, backpackit.com) and is more effective than paper lists and computer programs like Outlook and Excel.
Where I think gubb could really help me is with grocery lists. Instead of using the magnetic notepad on my refrigerator I could access my gubb list from anywhere. So the next time I get a craving for pickled herring or I need to remember to pick up TP, I can add it to my gubb list.