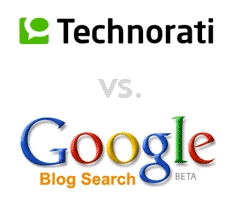 We reported back in December that Google Blog Search had surpassed Technorati in market share of US Internet visits visits during the week ending 12/23/06. This was based on data from a Hitwise analysis that drew considerable attention from many prominent insight sources. However, a study performed at Compete.com reports findings entirely opposite to those results.
Compete performed the same analysis, but came up with a different conclusion with their data. Compete determined that Technorati continues to hold a significant lead over Google Blog Search.
Both analysts agree that Google Blog Search's recent traffic surge was associated with a well-placed link to Google Blog Search added to the Google News Homepage back in October. This action failed to propel Google past Technorati as the leading blog search according to Compete.
The analysis of these two services can get cloudy when you consider that Google's blog search really comes from blogsearch.google.com and search.blogger.com. According to Complete, their analysis included all pages of Technorati.com vs. all pages of blogsearch.google.com – as did the Hitwise report.
About Compete.com
Compete is a Web-based consumer intelligence service that developed a unique methodology to estimate U.S. Internet traffic. Compete calculates and estimates total traffic and rank for nearly every site on the web based on the daily web usage of more than two million members of the Compete community, including ISPs, ASPs, and users of the Complete Toolbar.