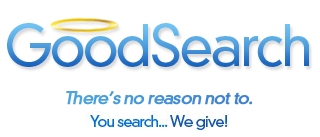 Most of us probably have a cause that we care about; whether it is saving endangered animals, finding a cure for cancer, or something less romantic like just helping out at your local school.
The problem is that most people have trouble finding the time or money to help. GoodSearch has developed a way for everyone to help our their favorite cause – and it won't cost you anything.
GoodSearch is a search engine that donates 50% of its revenue to the charities and schools designated by its users. GoodSearch has developed a patent-pending technique to track and direct search-generated proceeds to charities. By vying for a piece of the enormously lucrative $6 billion dollar search engine advertising market, GoodSearch will help out your favorite cause and you can feel good about surfing the web.
To use GoodSearch, you first select the charity or school you want support from the list of thousands of organizations in the database. After you have selected your charity, GoodSearch works just as you would expect a search engine to operate. GoodSearch pulls its search results from the Yahoo! database.
Once you have designated and verified your favorite organization, it will be saved for your next visit. You can also see the amount raised for your charity by clicking on the "amount raised" button.
GoodSearch was founded by Ken and JJ Ramberg and launched in 2005 as a way to raise money for charities and schools just by searching the Internet.