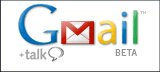 This is a follow up to the previous post on the Gmail Contacts Exploit.
It appears the the problem has been partially fixed by Google. A blog on zdnet is claiming that the issue is partially fixed. They are reporting that the issue may still exist on some Google domains. Another blogger is stating that the vulnerability still exists. SlipperyBrick is researching the issue and will keep our readers informed of any developments in the case.
Update: The author has posted to the Google Group handling Gmail issues to get a response from Google. The author of this post uses Gmail as his primary email client.