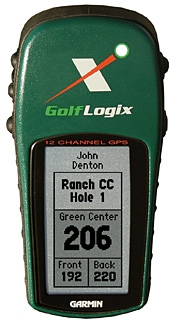 Golf is a game of distance and direction, so it's no surprise that handheld GPS devices represent one of the fastest growing products in the golf business. Also helping this burgeoning market is the recent USGA and R&A rulings that sanction the use of distance measuring devices for golf. The ruling states that GPS-based systems and laser rangefinders are allowable.
To take advantage of this tremendous growth area, Garmin and GolfLogix have partnered on a new GPS device designed specifically for golfers. The partnership puts GolfLogix's proprietary golf software on Garmin's popular eTrex line of GPS receivers. The new device may even help the most hapless hacks squeeze a few strokes from their game.
The GolfLogix software gives you exact distances to hazards and the hole to help you select the correct club. Distances can be found for Front, Center Back of Green, Bunkers, Water Hazards, Lay-ups, and Carries.
GolfLogix will introduce their new Garmin-powered GPS unit at the PGA Merchandise Show on January 25-27, 2007 at the Orange County Convention Center in Orlando, Florida. With a suggested retail of $349, the device will be distributed exclusively by ForeFront Group Inc., a leader in golf accessory sales and distribution.