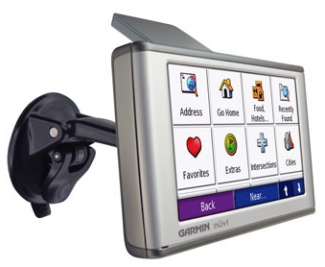 The Garmin nüvi 370 and nüvi 670 are the newest GPS devices to join the successful nüvi family. The expanded nüvi product line comes with preloaded maps of North America and Europe, making it a flexible GPS option for the serious traveler.
The new transatlantic nüvi's have preloaded detailed street maps of the United States, Canada, Puerto Rico, and over 30 countries in Europe. The nüvis are available with two screen choices: the standard 3.5-inch display on the nüvi 370 or the larger 4.3-inch widescreen nüvi 670.
Both nüvi's include an integrated traffic receiver to warn you of possible traffic congestion or weather-related delays and automatically suggest alternative routes. The traffic service is still free in most countries in Europe, but in the U.S. it will cost you $60.00 for a 12 month subscription – if it saves you from a couple traffic delays it is easily worth it.
The nüvi's are Bluetooth capable and allow you to make hands-free mobile phone calls using the integrated microphone and speaker. Other standard features include voice-prompted directions, currency converter, photo viewer, MP3 player, audio book player, and searchable points-of-interest database.
According to a Garmin press release, the nüvi 370 and nüvi 670 are expected to be available in February 2007 with a MSRP of $899 and $1099, respectively.
nuvi 670 [Garmin]