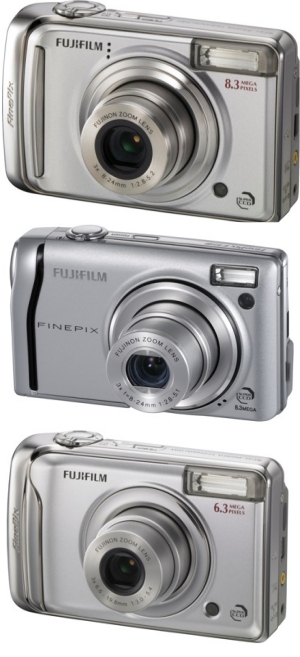 Yesterday at the CES in Las Vegas, Fujifilm accounced three more digital cameras in their FinePix lineup; the FinePix A800 (pictured top), the FinePix F40fd (pictured center), and the FinePix A610 (pictured bottom). These new digital cameras will be offered in addition to the A400, A500 and A700 models and will be available in the US in March of this year.
The FinePix F40fd, an 8.3 megapixel, 3x zoom camera which is expected to retail for around $299 USD is sporting a new facial recognition technology, in which the camera can recognize up to 10 faces anywhere inside the viewing frame in a slight fraction of second, and then focus on them appropriately. The company also boasts improved picture quality and color even in low light, due to the ISO 2000 sensitivity and the Super CCD-HR chip with Real Photo Processor. The F40fd also has a "dual shot" mode which will take two photos together quickly, one with and one without a flash. The user can then view them both in the 2.5 inch LCD screen and decide which turned out better. Along with that there is also some advanced image stabilization and a smart flash that will adjust the intensity of the flash based on perceived lighting conditions at the time of the photo.
Both the A800 and the A610 also have 2.5 inch LCD screens and 3x optical zoom. The A800 and A610 have a dual memory card slot, and all cameras now support a standard SD memory card along with the Fujifilm xD-Picture card. "The xD/SD compatible slot allows us to appeal to current owners of both xD and SD compatible cameras when they are considering an upgrade or replacement," said Tom Shay from Fujifilm.
The A800 is a slightly scaled down 8.3 megapixel camera with a sensitivity of ISO 800 and will retail for $179 USD. The similar A610 is a 6.3 megapixel camera with ISO 400 sensitivity that will retail for $129 USD.