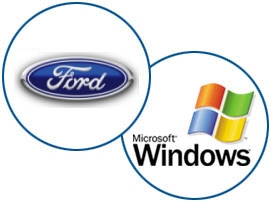 Today Ford announced that they have teamed up with Microsoft to offer some in-car software to enhance the use of digital audio players, mobile phones and multimedia in their vehicles. Ford Sync will be powered by Microsoft Auto Software and provide voice activated communications and entertainment in select Ford vehicles.
Sync is planned to be available in 12 different Ford, Lincoln and Mercury vehicles yet this year and will allow users to access their mobile phone, mobile music and will host almost any digital media player including the iPod and Zune, all from voice commands or from controls on the steering wheel. Integration will happen via either Bluetooth connectivity for mobile phones or a USB 2.0 port inside the vehicle to connect digital audio players and most media storage devices. The Microsoft Auto software will support MP3, AAC, WMA, WAV and PCM files.
"Sync is what today's generation and today's drivers demand in connectivity," says Derrick Kuzak, group vice president, product development, Ford Motor Company. "Not only does it offer hands-free phone operation and iPod®, Zune or MP3 player connectivity, it's built on a software platform that is upgradeable and will allow us to offer new features by simply upgrading the software."
Some specific features of the Sync offering from Ford and Microsoft include:
A Push-to-talk button with voice command to select contacts or numbers to dial.
Converting text messages to audio that can be read out loud from the Sync system.
Voice activation to play music using command words or phrases.
Language support for English, French and Spanish
The Sync technology is planned to specifically be available on the 2008 Ford Focus, Fusion, Five Hundred, Edge, Freestyle, Explorer and Sport Trac; Mercury Milan, Montego and Mountaineer; and Lincoln MKX and MKZ. It is eventually going to be available on all Ford, Lincoln and Mercury vehicles, according to Ford.
"More than 80 percent of U.S. households use cell phones, and 60 million digital music devices have been sold. That's a 50 percent increase from just 2005," Kuzak said. "With such market growth led by consumers' needs, Sync is the right new technology at the right time for Ford, Lincoln and Mercury vehicles."
Check out the "Sync My Ride" video demonstrating the use of the Microsoft Auto Software through Ford Sync:

Automotive, Ford, Ford Sync, Microsoft