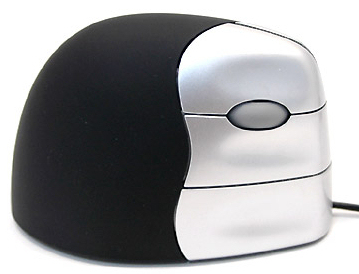 This Vertical Mouse 2 has a unique ergonomic design that gives the users hand a more natural position while using it, instead of twisting the forearm as with most conventional mice.
The design requires holding the mouse much like you would a cup, with fingers on the side to access the right and left buttons and the scroll wheel. This does seem like it would be a more natural and comfortable position, but it may make some of of the finer movements a little more difficult, especially the forward and back motion.
Also, most mice are designed for use with either the right or left hand; you would want to be sure to get the correct one. Overall this is an interesting design that would be worth trying out.
Source [Coolest Gadgets]