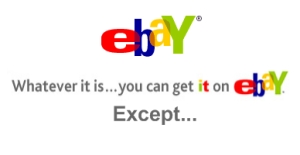 One of the oldest controversies in online gaming is the re-selling of in game merchandise. Ever since the days of EverQuest to the present World of Warcraft phenomena, selling your hard earned, in-game items has been a somewhat dubious profession. EBay is putting the brakes on such practices however.
The practice known as RMT (Real Money Transfer), is usually discouraged by game publishers because it involves selling intellectual property which may in fact belong to game publishers and not the players themselves.
A spokesman for eBay, Hani Durzy, recently told SlashDot that eBay has made the decision for "the overall health of the marketplace." Mr. Durzy also said that the selling of virtual items involved "legal complexities." Mr. Durzy also cited eBay's existing digital goods policy, which states that a seller " must be the owner of the underlying intellectual property, or authorized to distribute it by the intellectual property owner." Obviously this precludes most sales of in-game items by game players as the items do not actually belong to them.
This may have serious ramifications for people who make a living off of selling items and money from various games like World of Warcraft. Many people use eBay mainly because it has a very good system for preventing fraud and ensuring payments and successful fulfillment of contracts. There exist other sites like IGE, which exist explicitly to traffic in goods for MMORPGs.
The move only affects games and, at this point, life simulators like Second Life are exempt. Linden Labs, the publisher of Second Life, does not impose the same restrictions that Blizzard, the publisher of World of Warcraft, does. Therefore participants in Second Life can sell goods and services as they see fit.
Still some third world countries harbor "gold farms" where low wage workers play online games all day to earn gold and equipment that is later sold on eBay. The move by eBay may seriously hamper the profitability of those operations and other online auctions sites do not have eBay's large user base which might decrease the number of consumers for such services.
The virtual economy is so large that South Korea has considered legislation to regulate the industry. Time will tell if the move by eBay seriously deters the practice.